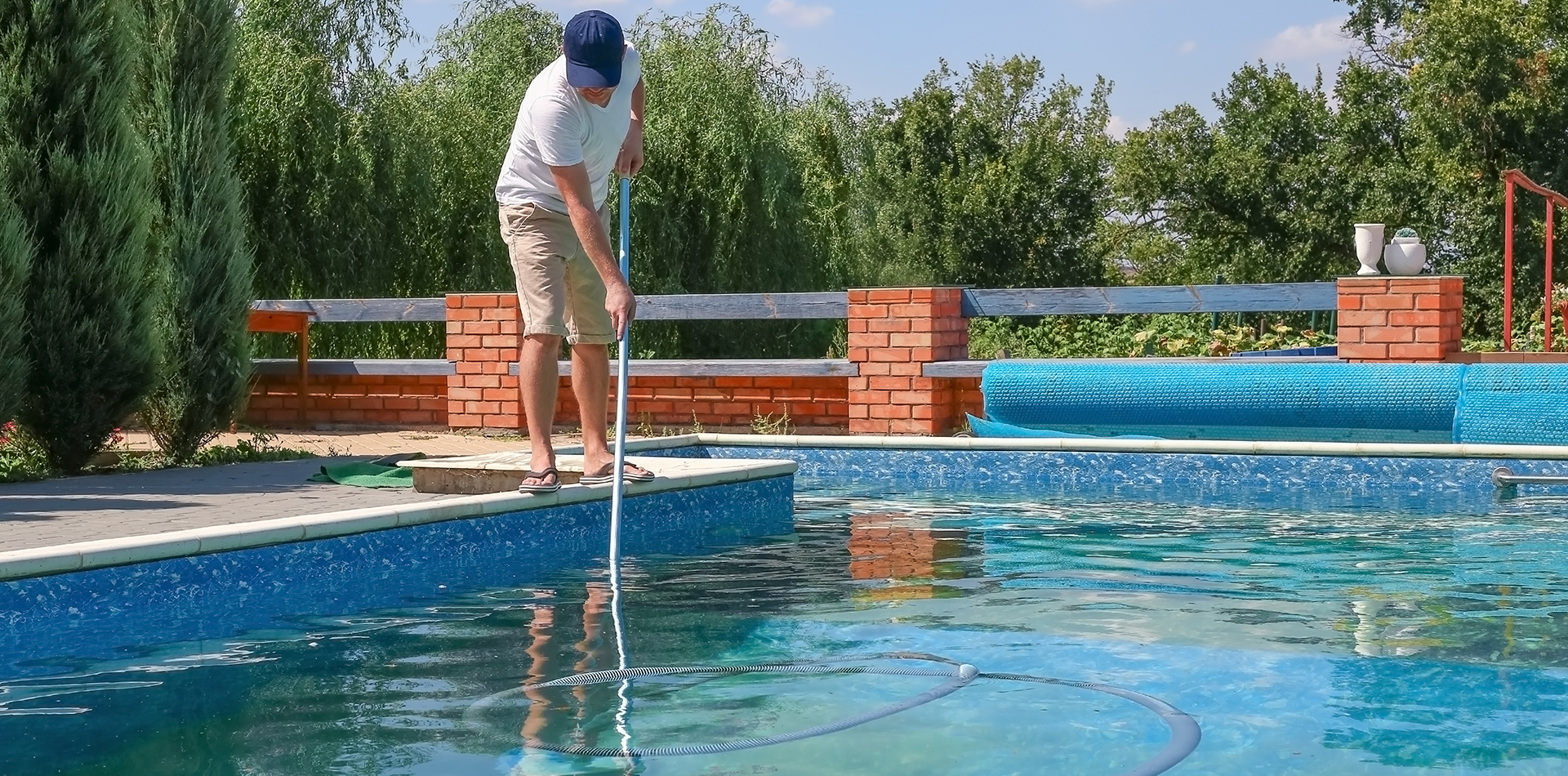 The subject that we are looking at here is one that is sure to have had many owners doubting themselves: "Why did I decide to have a pool again?"
There's no hiding it. A pool requires servicing and maintenance — work in the shade that is not always easy. However, it is also very rewarding work if done properly! It boosts the reliability of your pool and gives you peace of mind so that you can enjoy it throughout the year.
To clarify any doubts you may have about the topic, here's what pool servicing involves — what you need to pay attention to and the right action to take over the season.
We are only looking at the tasks that can be done by an amateur here; your pool technician can take on the more technical work.
Moreover, don't wait too long before calling if an installation doesn't seem to be working properly: it is always cheaper to prevent damage than to repair the consequences of this afterwards!
Servicing and maintaining the pool and the technical room
Regular servicing work is done according to the periods in which the pool is used with frequent tasks in summer and longer intervals in winter if you are not bathing (or none for passive wintering).
You will be working in two main areas:
1. Pool maintenance
2. Technical room servicing (which we think about less but is just as important)
Servicing the pool
There will be things to be done that you already know about, like regularly removing the debris on the surface of the water with a pool net or cleaning skimmer baskets.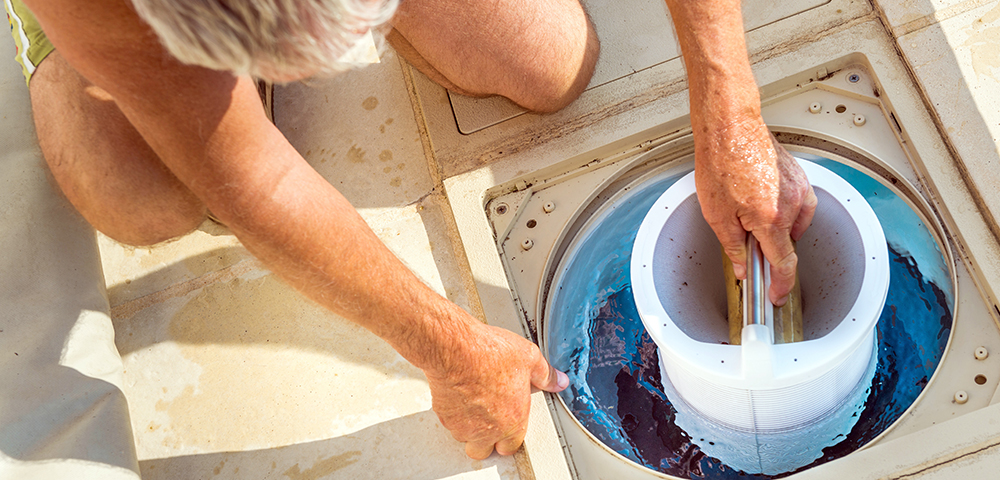 Keeping water clean does not only help the pool look good but it also prevents the organic matter in it from decomposing. This decomposition causes the treatment products to react, which we want to keep to a minimum for virtuous pools.
To clean your water, and aside from your trusty pool net, you have the option of using a vacuum cleaner brush or even a cleaning robot, for which there are two fundamental rules: use it when no one is in the water and remove it from the pool when its program is finished. Then store it away from sunlight and humidity for the longest possible service life! Moreover, this type of good practice applies to all your accessories: the pool net, brush, telescopic pole, etc.
If your pool has an automatic shutter, hose it down after a sandstorm (which are frequent in Southern Europe) to clear the slats and prevent blockages when the shutter is rolled up.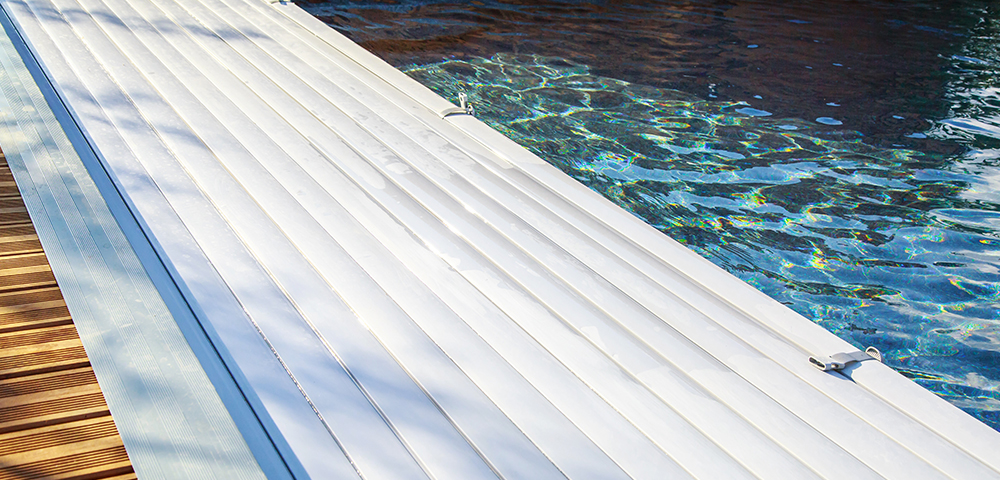 The operating condition of the pool alarm should also be checked regularly. This accessory is often forgotten but if there is an accident and it is not triggered, the consequences could be very serious.
In general, everything integrated into the pool and visible from outside should be checked regularly: projectors, surrounds, etc.
Last but not least, the water quality should be analysed at least once a week to determine if it needs any products and to keep it disinfected and maintain its sanitizing effect at all times. What's more, our guide to water treatment explains the best way for you to take care of your pool water.
But it's true that it can sometimes be hard to keep up this pace... If you would like to no longer have to control the water quality manually, you may be interested in an automatic solution. Our Soleo system intelligently controls the pH level or chlorine or salt content of your water. An easy way to give you real peace of mind!
If you perform this check by hand without an automatic system, use the products as advised: for example, some can be mixed together in the water but never when they are dry with a risk of violent chemical reactions.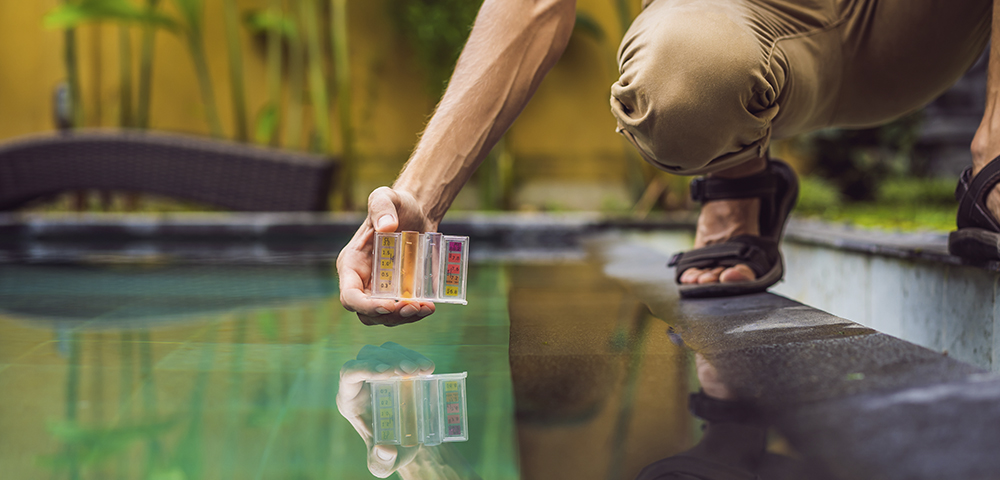 Storing these products in the technical room is not ideal. Instead, opt for a dry and ventilated place, out of the reach of children. What's more, some should not be stored together: ask your pool technician for advice when buying these treatment products.
Servicing your technical rool
Although it seems logical to service the pool itself, the technical room is often forgotten. But the installations responsible for your pool working correctly are here!
Check the general condition of your technical room regularly, specifically for signs of humidity, corrosion or unusual noises. Call on your pool technician if you notice any of these: a quick repair will be always be cheaper than intervening after damage has occurred.
Pay attention to control the valve condition too: you need to be able to operate them easily (essential in an emergency).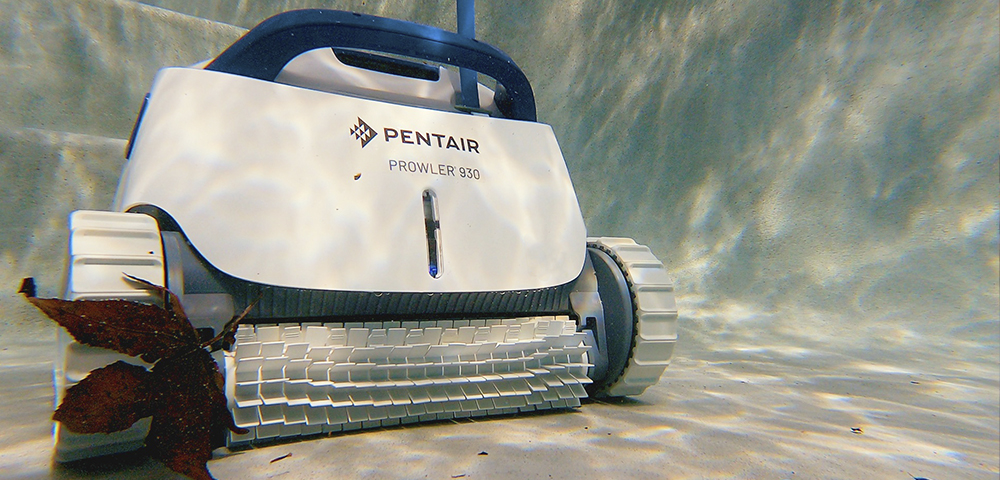 The room should be clean and well-ventilated. Rather than this being a question of aesthetics, a well-ordered room will be much more practical if you need to access it in an emergency, or for simple operations, such as setting the pump clock, that your pool technician may ask you to do remotely.
At the filtration pump specifically, ensure that you clean the prefilter and the filter media regularly (sand for backwashing or cartridges for cleaning with water).
As for the technical room as a whole, it is also good to check the pump regularly: are there any leaks? Is there a damp area on the floor? Or an unusual noise? In this case, contact your pool technician without delay.
Finally, servicing pool installations is very similar to servicing your car. We consider it normal to regularly replace some parts to avoid the whole vehicle from breaking down. In reality, exactly the same applies to a filtration pump or any other piece of pool equipment.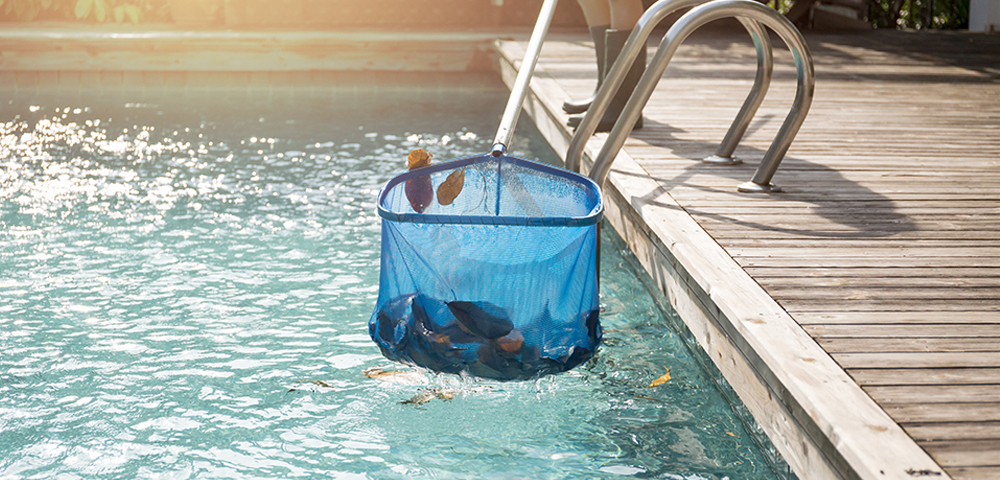 How to make servicing your pool easier
Do the regular maintenance tasks that a pool needs seem too tedious?
There is a very easy way to make your life easier: installing an automation system.
An automation system can instantly send you information on water chemistry or its temperature and it alerts you when it is time to wash the filter. An installation with a control function can even automatically dose products for servicing or increase or reduce the filtration time depending on the water temperature.
And these are just a couple of examples! In addition to taking care of manual water treatment for you, this type of system is also kind to your wallet because it uses as little of the treatment products as possible at the exactly right moment, and because it keeps the operation of your installations to a minimum. Ask your pool technician to offer you automation solutions!
By maintaining your pool, your prevent problems and save money
Servicing your pool is exactly the same as for your car. For this, a service always costs less than a repair: from now on, don't shy away from following the service manual of the manufacturer.
Paying your pool the same attention as your car is normal: a well-serviced, well-maintained pool will develop fewer technical problems and its installations will have a longer service life.
Finally, ask yourself two questions when you are thinking of servicing your pool:
1. Is a particular piece of equipment or element working normally/in optimal condition?
2. If not, what can I do to solve the problem, or should I call a professional?
Doing it yourself means that you have the right amount of time, skills and tools. You need to be well informed. If you are unsure, contact your pool technician to have the work carried out professionally. It's a win-win situation!